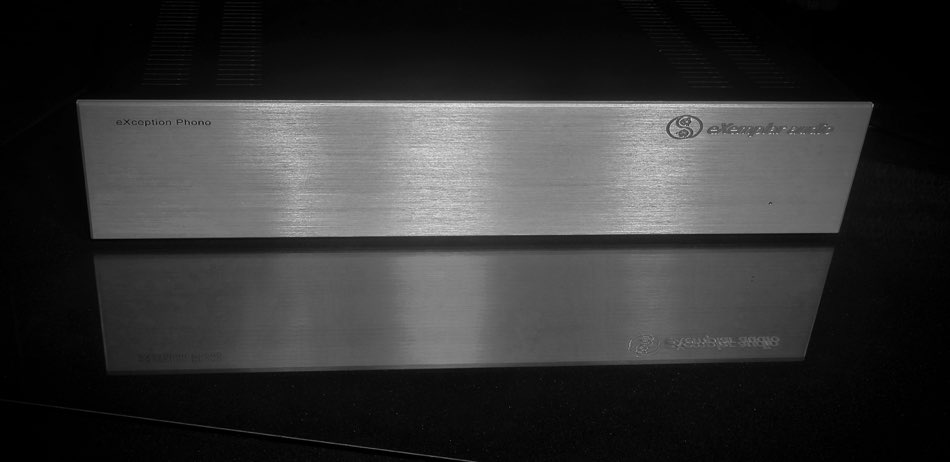 eXception Phono
The Oppo 105 For true music lovers, nothing equals the warmth, dynamic range and fidelity of vinyl records. Therefore, a critical component of every audiophile's vinyl playback system is the phono preamp.
Due to the extremely small signal produced by a phono cartridge a good phono preamp is one of the most difficult pieces of audio equipment to produce. We've spent 10 years developing and refining our Exception Phono preamp to meet our standards of performance.
Words are inadequate to explain the Exception Phono. Like the rest of our equipment, you have to hear the Exception Phono to fully appreciate what it does.
Key Features
Each unit is hand built in the USA
A low noise level of -75dBu allows the quietest passages of your music to be heard
The low impedance output circuit is designed to drive your cables and isolates the output from the influence of the
next stage
All switches are easily accessible
Accommodates both high and low MC output cartridges
Stillpoint Circuit Board Isolators are utilized to mount the amplification board
"Nude" Vishay resistors are used throughout the signal path
Dual mono outboard power supply
Class A, actively loaded, shunt regulated tube RIAA section with passive RIAA
Servo controlled solid state MC section for low noise and large dynamic range without the sonic limitation of
transformers
On/Off power switch mounted on front panel of the outboard power supply
Heavy gauge steel enclosure to help isolate external electronic noise from nearby equipment
Specifications
Inputs per Channel
Separate MM and MC inputs
MM/MC switch
MM impedance 47K Ohms
MC Single Ended RCA
Ground lug located on back panel
MC load impedance adjustable via RCA plugs located on back panel
Tube Complement
Two (2) 6C45P and Two (2) 6BZ7 vacuum tubes with high quality ceramic sockets
Power
Ground binding post
Voltage 110/120V AC 60Hz
Optional factory installed 220V or 230/240V AC 50/60Hz
Standard 3 pin IEC power connector
ON/OFF power switch conveniently located on the front panel of the power supply
Separate linear regulators for each channel's filaments, separate high voltage shunt regulators for each channel's B+, separate +/- low voltage shunt regulators for each channel's MC step up stages.
Detailed Specifications
Gain MM input 42dB
Gain MC input 72dB
Noise - 75dBu
Frequency response complies with the original RIAA curve within + or - 0.5 dB
RIAA curve is achieved using a passive filter
1% metal film resistors throughout
Polypropylene and polystyrene capacitors throughout the audio path
Other Features
"Made in the USA" using US and imported parts
Each unit is built by hand
Phono dimensions 16.25" W X 12.75" D X 4.5" H
Phono weight 12 lbs.
Power supply dimensions 8.5" W X 12.5 D X 5" H"
Power supply weight 10 lbs.
Five year limited warranty
Six months warranty on Vacuum Tubes
$6,950.00