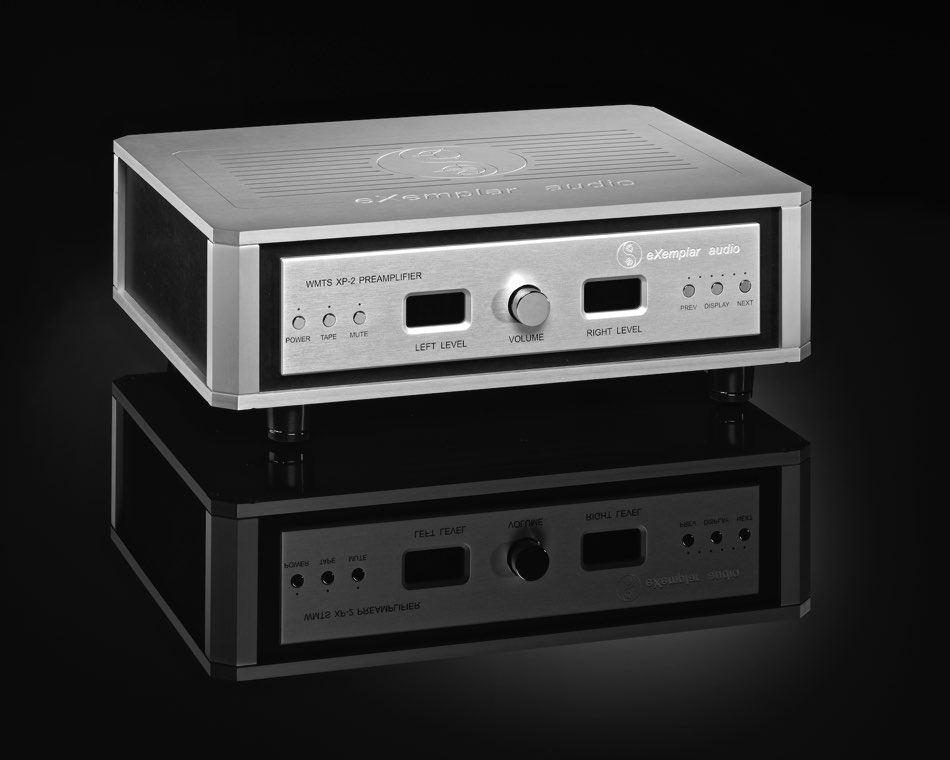 eXception SE Linestage
Line Level Preamplifier for High End Audio Systems
A Preamplifier is the heart of any audio system. It controls the rest of the system and everything flows through it.
We've capitalized on over 20 years of research and development to create the eXception SE Line preamplifier. It has been designed to perform as well as the best units available at a down to earth price.
Click here to read the reviews.
Features
Very short all triode signal path (2 x 6H6P dual triodes) with no negative feedback
Voltage amp direct coupled to an actively loaded cathode follower output stage (high dynamic range, wide bandwidth with fast transients and amazing recovery of low level detail, low impedance output for effortlessly driving cables)
Urushi output capacitors and nude Vishays in the signal path
Stillpoint CBIs isolating the tubed signal board from the chassis
Custom mu-metal shielded power transformers with power supply PCB mounted directly to transformer (minimizes stray fields and noise pick up)
Very high performance, ultrafast, wide bandwidth shunt regulator per channel (very low impedance power to tube stages over an extremely wide bandwidth providing extremely low noise and black background)
DC regulated filaments
ALPS audiophile-grade motorized VOLUME pot
Remote control for all functions (power, mute, input select, level, faceplate LEDs on/off)
Warm-up delay / MUTE function (when powered up the volume control is turned all the way down, outputs are muted and powered is sequenced in stages to maximize tube life and provide quiet startup)
Home theatre bypass
Heavy gauge steel enclosure to help isolate external electronic noise from nearby equipment
Each unit is proudly hand built in the USA!
Specifications
Controls: Volume, Power, Mute, Input select
Outputs: RCA x 2
Inputs: RCA x 5 + Home Theatre Bypass
Output Impedance: 133 ohms
Frequency Response: 10Hz - 50KHz
S/N: >90db
Tubes: 6H6P
$5,495
Model WMTS XP-2 is a Fully Balanced Preamplifier for Ultra High End Audio Systems.
In honor of our dear friend, true gentleman, passionate audiophile  and leader in the Audio Industry we are honored to present the Winston Ma Tributes Series (WMTS) of the finest audio electronics. We've spent the last several years developing the most refined equipment possible.
As with Winston's work, attention has been paid to every detail of this series. Chassis designed after 5 years of research into the acoustic properties of materials. Isolation and resonance control including Stillpoints technology both internally and externally. State of the art circuitry design with over 2 decades of leading edge development.
After over four years of development to create the best preamplifier possible, we are pleased to present our WMTS XP-2 fully balanced preamplifier! We've drawn upon over 15 years of research, development and refinement of our unique power and control circuitry and our 50 plus years of tube audio experience to scrutinize and optimize every aspect of the design of the WMTS XP-2. 
The WMTS XP-2 is based upon a true fully balanced differential circuit utilizing no negative feedback.  Precise control is maintained by series and shunt voltage regulation in addition to current regulation where applicable. Completely dual-mono power supplies with custom made transformers and extensive filtering feed the main unit. Nude Vishay resistors and Urushi capacitors are used throughout the signal path. We've literally spent years scrutinizing the utilization of the best topology for each stage, best form of regulation and best passive components! 
All this adds up to a preamplifier that has to be heard to be fully appreciated. The usual cliché's describing current audio equipment just can't describe what the WMTS XP-2 brings to an audio experience.
Specifications
Controls: Power, Tape Select, Mute, Volume, Input select
Outputs: 2 sets RCAs, 2 sets balanced XLRs, 1 set RCA tape out
Inputs: 4 sets RCAs, 2 sets balanced XLRs
Input Impedance: 50K ohm
Output Impedance: 133 ohm
Frequency: 10Hz - 50KHz
S/N: >90db
Tubes: 6922 Family
$15,000