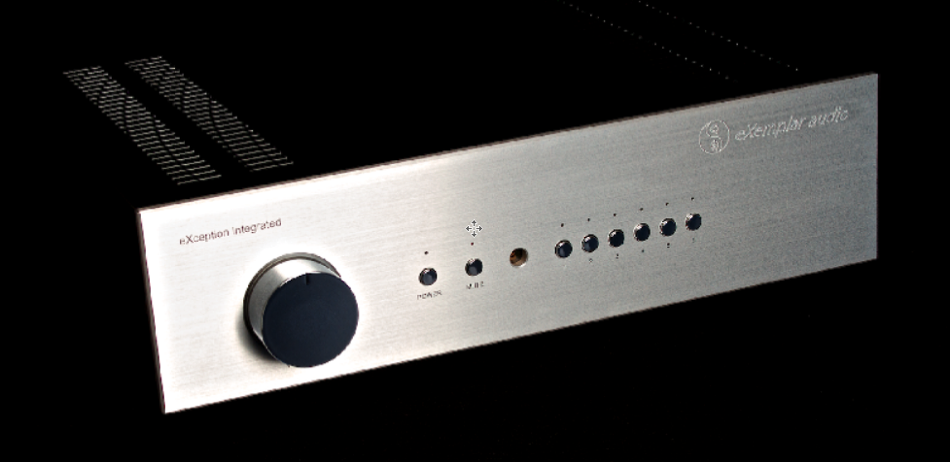 eXception integrated Amplifier
We believe that an integrated amplifier when done correctly will outperform the best separates available and we set out to prove it!
We've capitalized on over 20 years of research and development to create the eXception Integrated amplifier. It has been designed to perform as well as the best separates available at a down to earth price.
Features
Same voltage amplifier stage (6H6P) as in our eXception SE preamplifier
Voltage amp cap coupled to the well reviewed and received LM3886 chip (high dynamic  range, wide bandwidth with fast transients and amazing recovery of low level detail
Urushi coupling capacitors and nude Vishays in the signal path"
Stillpoint CBIs isolating the signal board from the chassis
Custom mu-metal shielded power transformer with power supply PCB mounted directly to transformer for tube preamp section (minimizes stray fields and noise pick up)
Huge overrated toroid for amplifier section feeding a separate power supply section with 20,000 uf per rail (fast transients, excellent bass punch and control)
Very high performance, ultrafast, wide bandwidth shunt regulator for tube preamp section (very low impedance power to tube stage over an extremely wide bandwidth providing extremely low noise and black background)DC regulated filaments
Full ground plane on main PCB with all traces optimized for maximum transfer with minimal loss and interference (exceptionally quiet to provide a noise-free background)
ALPS audiophile-grade motorized VOLUME pot
Remote control for all functions (power, mute, input select, level, faceplate LEDs on/off)
Warm-up delay / MUTE function (when powered up the volume control is turned all the way down, outputs are muted and powered is sequenced in stages to maximize tube life and provide quiet startup)
Home theatre bypass
Heavy gauge steel enclosure to help isolate external electronic noise from nearby equipment
Each unit is proudly hand built in the USA!
Specifications
Controls: Volume, Power, Mute, Input select
Outputs: 5 Way binding posts x 2
Inputs: RCA x 5 + Home Theatre Bypass
Output Power: 50 watts
Frequency Response: 20Hz - 40KHz
S/N: >90db
Tube: 6H6P
$5,495.00